Free Hydronic Heating Design Service
If you are in new construction phase or retrofitting an existing construction, let us help. We can assist you through the entire design process, as well as put together a complete integrated hydronic heating package from the air to water heat pump to the PEX piping and manifolds and everything in-between!
Heat Load Design
Heat Load Calculation Service
Proper design of any HVAC project requires knowing the heating load or cooling load. The heating load is the number of BTUs required in the coldest day of the year in your region to keep the house at its design set point temperature. This is based on many factors, but an improperly sized system could be the difference between a cold house that can't keep warm in very cold weather. On the other side oversizing your heating equipment leads to extra upfront costs and higher monthly operating cost. Getting this right is important!
Radiant Floor Design
Using state of the art CAD design software we can optimize the loop layout design so that your contractor or any DIY will be ensured there are not cold spots. Whether you are looking at hydronic heat in concrete, under floor joist, or as sub floor we can help. Hydronic Fan Coils for individual room zone heating or Hydronic Air Handler can be incorporated to provide centralized heating and cooling using duct work. Proper sizing of the system starts with knowing the heat demand of your building. Our hydronic heating design service will ensure you project is a success.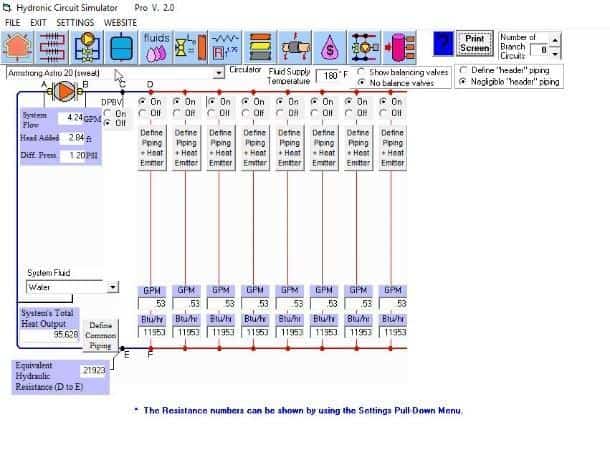 Hydronic pump sizing is important!
Big pumps cost money and cost more money to operate. Sizing a pump correctly for the job requires proper calculations and is often the most challenging task a DIY has when building a hydronic heating zone. Our simulation software will accurately calculate the correct sized pump for your project. A proper size pump will ensure proper performance as well as minimize operating costs.
One stop shop!
We can supply you with every piece of your hydronic heating project from the mechanical design to the electrical wiring table for connecting your pumps, valves and sensors. We can also supply you with the best prices for all your plumbing parts.
Control logic
When designing an advance hydronic heating system with multiple zones, proper control of the system becomes a challenging task. Having all the parts communicate together produces a seamless integrated system. However, this is easier said than done. When we design a hydronic heating system, we will also build the control logic so that the customer or contractor can quickly set up the system to maximize the performance the first time. Using the Resol MX controller we can include the control logic on an SD card or email the end user the layout. Simply plug the SD card into the MX controller and you can quickly upload the control logic to the controller without any programming. All provided FREE of Charge!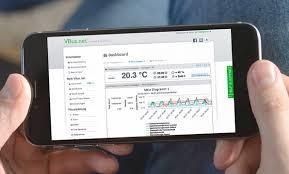 Remote monitoring is also included at NO CHARGE
With the digital age, customers want to have complete control over their system anywhere any time. When we design a hydronic system using the Resol MX controller, the customer gets free access to the vbus.net platform allowing customer to view the status and parameters of their hydronic project in real time over any computer, phone or tablet. Historic values can be compared to ensure the system is running optimally.
If you are looking for a complete hydronic design service without added engineering costs, then give us a call or contact us at This email address is being protected from spambots. You need JavaScript enabled to view it.