Arctic Cold Climate Heat Pumps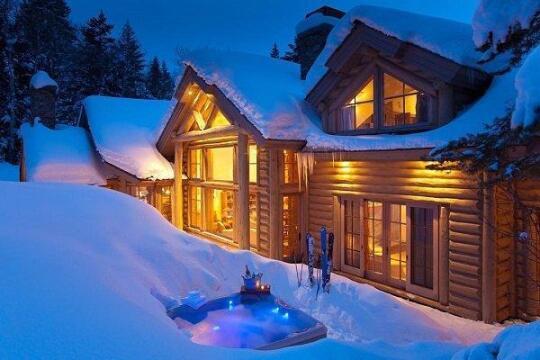 Our Arctic Series Cold Climate Heat Pumps are both the most advanced and cost effective air source heat pump on the market, with the ability to heat your home, office, shop, and pool/hot tub. Utilizing the industry leading EVI (Enhanced Vapor Injection) compressors with DC variable speed input, our heat pumps are able to operate continuously in weather as low as -30 C (-22F). Not only will our heat pumps heat your home, they can also cool your home or pool in the summer, while still providing heat for domestic hot water or pools and hot tubs. Our Arctic Heat pumps are both heaters and chillers in one unit!
The efficiency of a heat pump is measured in COP, which is a ratio of energy input vs. energy output. EVI DC Inverter compressors provide the absolute highest COP in the industry. Even in -20 C (-5F), our heat pumps have a COP greater than 2. This effectively means for every 1 Kw of energy the heat pump consumes, it is able to produce 2 Kw of Heat energy. This is effectively cutting your heating cost in half. However, most home owners do not live in constant -25 C (-15F), and our heat pumps get more efficient the warmer it is! At freezing temp (0C / 32F) our heat pumps have a COP of 3.5. This means that for every 1 Kw of input power you can produce 3.5 Kw of Heating energy, reducing your heating bill by 70%!
Unlike most other heat pumps on the market, our cold climate heat pump uses an air-to-water principle. A hydronic heat pump has many advantages over conventional air-to-air heat pumps. Our water heating system units can provide superior energy storage through a buffer tank. By storing the heat energy, we can distribute it to any source we want, such as a domestic hot water, heating and cooling fans, finned radiators, hydronic in floor heating, air handlers, pools, and hot tubs. This means that one heat pump system can provide all the heating and cooling your home requires at a savings of 60%-75% compared to traditional heating systems. The comfort of a hydronic heating has always been superior to forced air as it is cleaner, quiet, and more cost effective to operate.
Our Arctic Heat Pumps will cover your heating needs down to -25 C (-15F). Depending on where you are living there could be a few days of the year colder than this operating temperature. This is why we provide a backup heating element inside our EcoUltra buffer tanks. If the water drops below the low temperature set point, the heat pump will automatically turn on the back up heater to help deliver only the added energy needed. However, average winter temperatures below -25 C in North America are only seen in the most northern communities, meaning almost everyone has the ability to use our heat pump with very little backup power ever needed.
Solar Thermal Assist and Cold Weather Heat Pumps.
Our Arctic Heat Pump is designed for the ability to be connected to a solar a solar thermal booster. By adding our high efficiency solar vacuum tube system to your heat pump you have the ability to further improve the performance of your heat pump. The buffer tanks we provide contain an optional bottom heat exchanger which can connect directly to the solar thermal collectors. These collectors use evacuated solar tubes which can provide heat energy even in -40 C degree weather. This inexpensive combination of our renewable energy systems has the capability of providing homeowners up to 3 MWH of free heat energy annually on top of the energy savings of our Arctic Heat Pump.
Hydronic Heaters for Heating & Cooling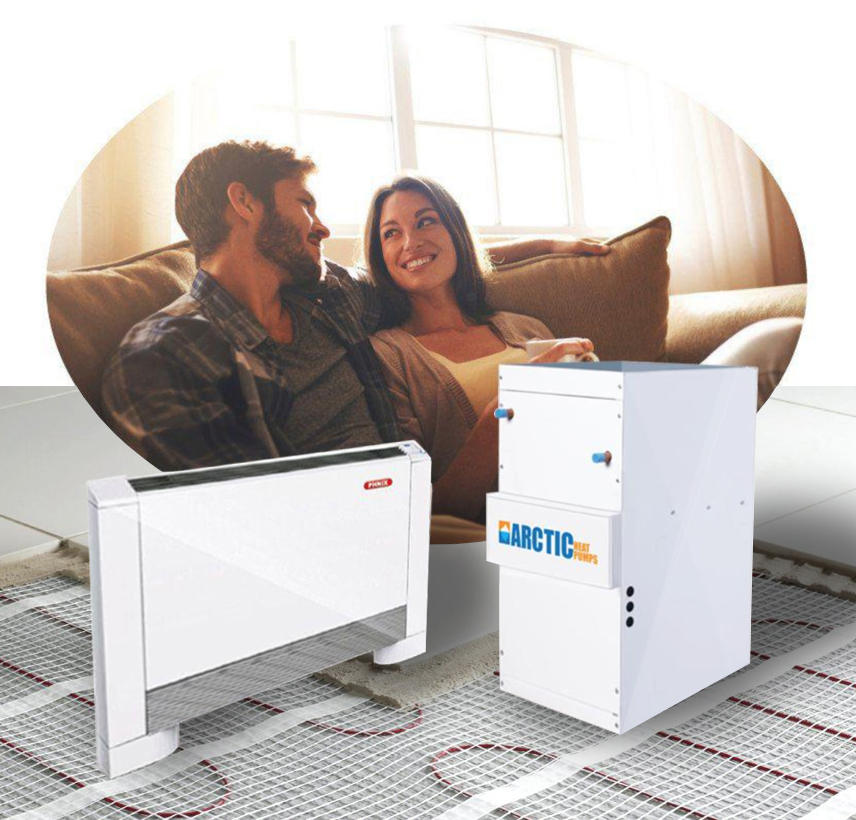 Air to Water Heat Pump for Cold Weather
ECO ULTRA – Supplemental Back Up for Heat Pumps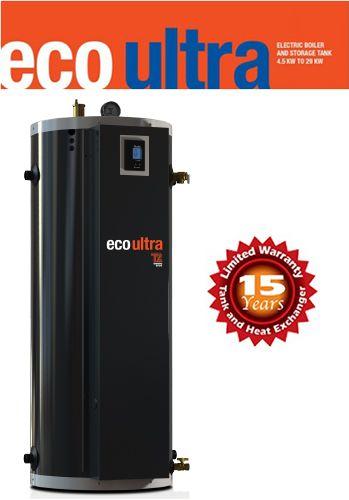 The perfect combination for any heat pump or geothermal hydronic heating system. Eco Ultra is the only buffer storage tank that is also a fully integrated boiler. This tank provides home owners the comfort they need to ensure their heating demands are met 100% of the time in any weather condition. In temperatures below -30 C (-20F) the air source heat pump loses its heating power. By pairing the cold weather heat pump with the Eco Ultra you can ensure you will always have the energy available in any temperature. Available in 4.5 Kw to 29 Kw size ranges.
The Eco ULTRA boiler is specifically designed to communicate with the Arctic Heat Pump, providing only the minimum heat output required. So when the heat pump loses performance it calls on the boiler to only provide the fraction of energy needed. This minimizes the systems energy requirements resulting in lower heating bills!
EVI Inverter Heat Pump Features
With the use of EVI DC inverter compressors, brushless DC fan motors and PFC control method, the heat pump is able to more accurately regulate its power output. There is no starting capacitor required, and the unit can soft start and stop and adjust its speeds to accommodate conditions. This result in 70% less operating cost compared to other air source heat pumps.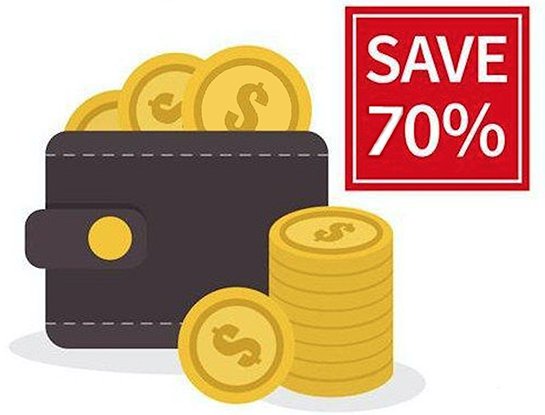 Precise Temperature Control
Our heat pump can change the operating frequency of the compressors automatically according to the heating or cooling demand. When the target temperature is reached, the units run at a lower frequency, which allows much more precise temperature control.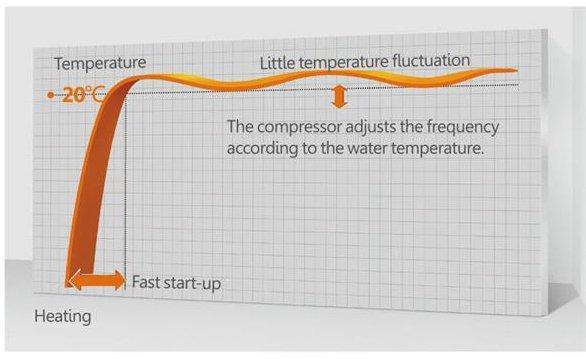 Speed up Heating/Cooling Time
When there is a large difference between the actual temperature and the programmed temperature, our unit can run at a higher frequency to increase or decrease the temperature quickly, resulting in more comfort.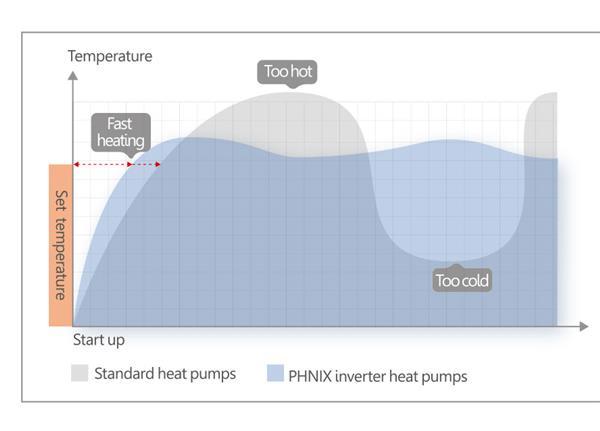 Cold climate heat pumps with traditional defrosting methods use a start time and a start temperature. Once the ambient temperature reaches or is lower than -7 C, the unit will start defrosting. This results in wasted energy, as it will defrost regardless of whether the system needs it or not.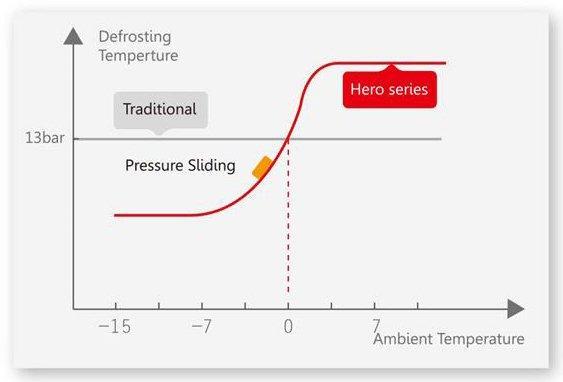 No frosting in the bottom
With the use of our special liquid distribution technology, in heating mode the temperature of the refrigerant in the air exchanger's bottom copper tube will never decrease. This ensures no frosting on this lower portion, and results in smooth drainage.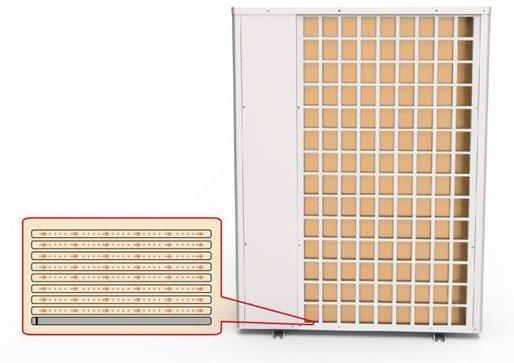 Our self-developed wire controller uses an LCD touch screen, and can be installed on the wall inside your house. It provides you a convenient way of controlling your heat pump and is applicable to RS485 communication.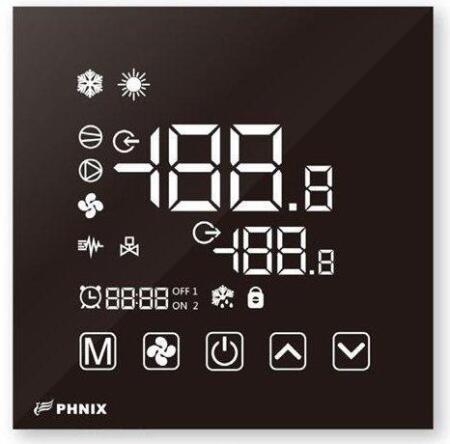 Arctic Cold Weather Pool & Spa Heat Pumps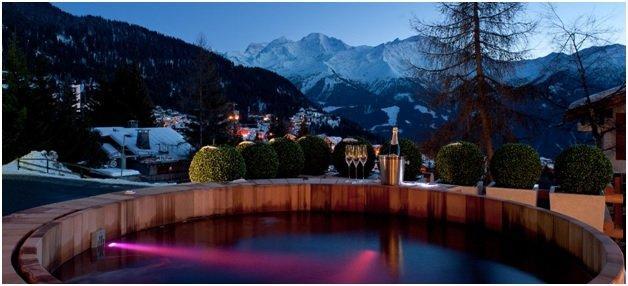 An energy efficient Heater and Chiller in one unit!
North America's Only Cold Weather Pool and Spa heat pumps! Until now spa owners were stuck with expensive pool heat pumps that only worked during pool season (above 70 F). Not anymore! Now hot tub and pool owners can enjoy year round savings with our Arctic Pool & Spa Heat Pumps. These cold weather heat pumps work below 20 F (-7 C) and can heat up to 104 F. With titanium heat exchangers and hot gas defrost these heat pumps are loaded with features including time of the day programming and ultra-quiet 47 DB DC fan motors. With COPs as high as 5, these heat pumps are the most economical way to heat your pool or spa in any weather!
Hot weather got you heated up? With an Arctic Pool Heat Pump you can chill your pool or hot tub anytime. Our pool chillers can cool your pool/tub to as low as 45 F in the heat of the summer and then automatically switch to heating at the touch of a button. Looking for cold immersion therapy? You can turn your spa into a cold plunge tub anytime you want!