PAW Manifold for K31 and K32 Pump Stations - 3 Ports
Out of stock. This item can be backordered. Approx. lead time: 6 weeks.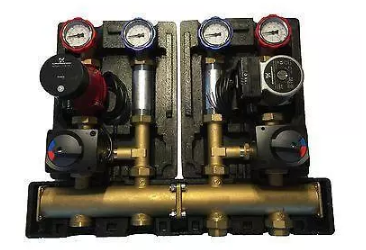 For Connection of 5 Heating Zones + 1 Supply
Used in closed loop heating designs. The PAW Modular distribution manifold allows parallel connection of multiple zone modules in order to customize any installation. Available in 2-6 sectional designs for connection of 2 to 9 heating zones. They simplify installations, extremely shorten assembly time, providing cost saving and time savings. Union connections make the mounting of the zone modules to the manifold fast and easy. Supply and return chambers of the manifold are thermally divided. Extension modules allow trouble free connection of additional heating circuits to an existing system. No special piping, just 2 connections and your installation is complete.
Features:
1" DN 25 connection
Modular Design up to 273 KBtu/hr (80 Kw)
Completely mad of brass
Completely pre-assembled
Completely insulated with EPP
Extremely low head loss
Multiple heating source can be connected such as a gas boiler and wood fired boilers to increase power.
Comes with wall bracket

TECHNICAL DATA Modular Distribution Manifold 1" - DN 25:
Dimension

1"- DN 25

Materials

Fittings

Bras

Gaskets

EPDM/NBR

Insulation

EPP
Technical Data

Max. Pressure

72.5 psi/5 bar

Max. Temprature

230 'F/110 'C

CV value

12.5
Connections

for zone modules

1" PAW flange for 11/2" nut (top)

for boilers

1" female x 11/2" male-flat-sealing (bottom)

2 x for boiler connection, rest plugged

on the side

3/4"

female, plugged for safety group and expansion tank
Dimensions

Center distance

125 mm/429/32"

Installation height

128 mm/5"

Height of insulation

137 mm/5.4"

Width

See item list below
Recommended application

Floating action temperature control up to 136.5 kBTU/h/40 kW

at △T = 18 'F/10 K