Storage Tanks Cost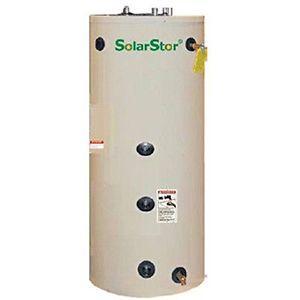 80 Gallon Domestic Hot Water Tanks with Internal Heat Exchanger and Electric Back Up – 80 SCE
SolarStor SE-50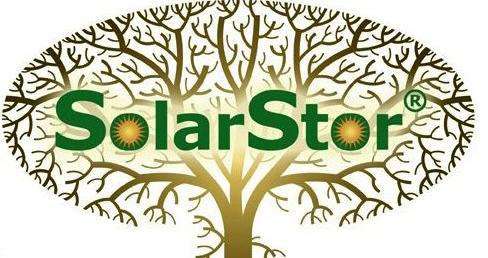 Solar or Geo Thermal glass lined tank for pre-heat with internal bottom heat exchanger + 4.5 Kw Heating Element.
UL and CSA certified.
6 year warranty.
80 gallons.
Model: N-266
Weight: 300lbs
Manufactured by: Bock
Solar Water Tanks
Solar water tanks are used in solar hot water systems to act as buffer energy storage. When the sun is shining, the water will be heated in the storage tank for later use, most commonly in the evening. Most solar water tanks contain a heat exchanger to seperate the potable water from the solar heating solution (Water/Glycol), and have a great insulation value that can retain the heat for days. They are also popular in Geothermal systems for those with Desuperheater, where by the hot air removed from the house (air conditioner) is transferred to the hot water tank to use in the home.
Features
High capacity 7.8 square foot bottom Internal Heat Exchanger
Back Up 4.5 Kw Heating Element
2" thick foam insulation
When sizing a hot water storage tank you need to consider two important variables. First, how much draw is used per person in the house? An average household will consume 20-30 gallons per person. This includes shower & bath water, dishes, and laundry. So a family of two will normally require a 40 gallon storage tank at a minimum. Secondly, for each gallon of hot water you need the same number of square feet of collector area. It is very important that you do not exceed this number or you will find that in peak summer months your solar system may reach extreme temperature. It is better to have a system that is under powered than over powered. Our TZ58/1800-30R solar evacuated tubes have a gross area of 40 ft2, so for each collector you will need minimum 40 gallons of storage.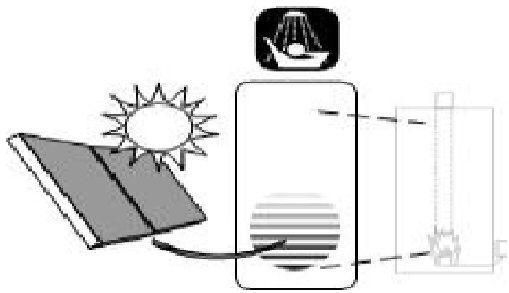 Pre-Heat Tank
Pre Heat only with 2nd existing Heater
The 1st and most common tank system is a Solar pre-heat tank. This type of solar heating system is used in homes with an existing water heater (electric, oil, gas, tank-less). The pre-heat tank stores the solar heated hot water which is then drawn into the main tank when the hot water faucets are opened. This type of system uses an internal heat exchanger that transfers the energy from the solar loop to the potable water. In this way ground or main line water of approx 35° F can be preheated to say 120° F+ degrees before entering the primary heating tank. If the heating tank is set to 130 degrees it only needs to raise the water 10 degrees instead of the 95 degrees it would have otherwise had to with out the solar pre heat tank.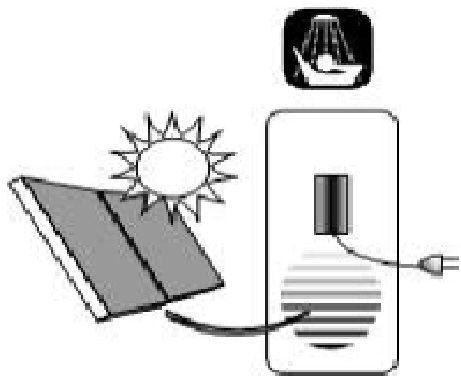 Combo Elecrtic Tank
Replaces existing tank with combo solar/elect
The SolarStor 50 SCE tanks can be used as either a solar pre heat tank or as a combo tank with solar and Electric. The combo tank contains a built in heat exchanger on the bottom of the tank and also contains one upper element. The solar hot water is circulated through the solar loop into the internal heat exchanger, transfering its energy to the potable water. The top element will then add to, and top up, the tanks temperature to the desired setting. This type of system is great for new homes or replacement tanks. It is important to note that very few solar tanks found in North America meet UL or CSA certification as a combo tank, as such most European or Asian manufactured solar tanks can not be used with potable (drinking water). Northern Lights Solar Solutions tanks are 100% UL & CSA listed and can be used in any solar application in US or Canada.