PHNIX ULTRA THIN WATER FAN COILS FOR HYDRONIC HEATING AND COOLING
Model 040-A3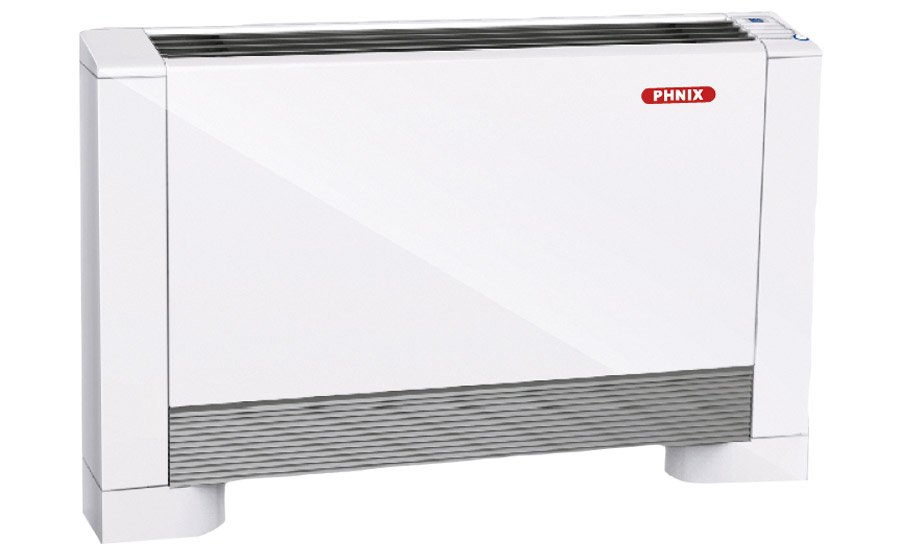 Modern Hydronic Heating and Cooling with Fan Coils is a much more energy efficient way of heating and cooling. Compared with traditional radiators you can save over 30% in energy consumption. Combine that with a high energy efficient Hydronic Heat Pump such as an Arctic Heat Pump, and the savings are tremendous. Modern day hydronic heating means using lower design water temperatures to capture the energy savings. The 040 is capable of heating with supply water temperatures as low as 110 F.
Ultra Sleek and modern design allow these fan coils to be placed nearly anywhere and unlike older radiators the ultra quiet fan mixes the room air providing a much more even heat distribution. Built in condensate drain allows for summer cooling and dehumidifying. Touch button control with automatic fan speed selection and auto heat cool allow you to easily manage the comfort of any room.
How does it work - When a heating or cooling call is needed the Fan Coil will send a dry contact signal back to a pump relay to activate the hydronic pump. The pump will either supply hot water in the winter to the fan coil or cold chilled water in the summer. When using multiple fan coils it is recommend to run them in parallel using a manifold and to use a variable speed constant pressure pump such as the Grundfos Alpha2.
Phnix Ultra Thin Fan Coils
Ultra Thin Fan Coil Casing only 130 mm (5.12") wide
High Efficiency with integrated fan you can save 30% compared with other radiators
Easy Installation - Wall mount, floor mount or ceiling mount
Smart Control with built in thermostat - Remote controller included
Cooling and Heating in one unit - Ideal for Air to Water Heat Pumps
Individual Room Zoning provides superior comfort over central air.
Multiple Units Require Zone Valving Actuators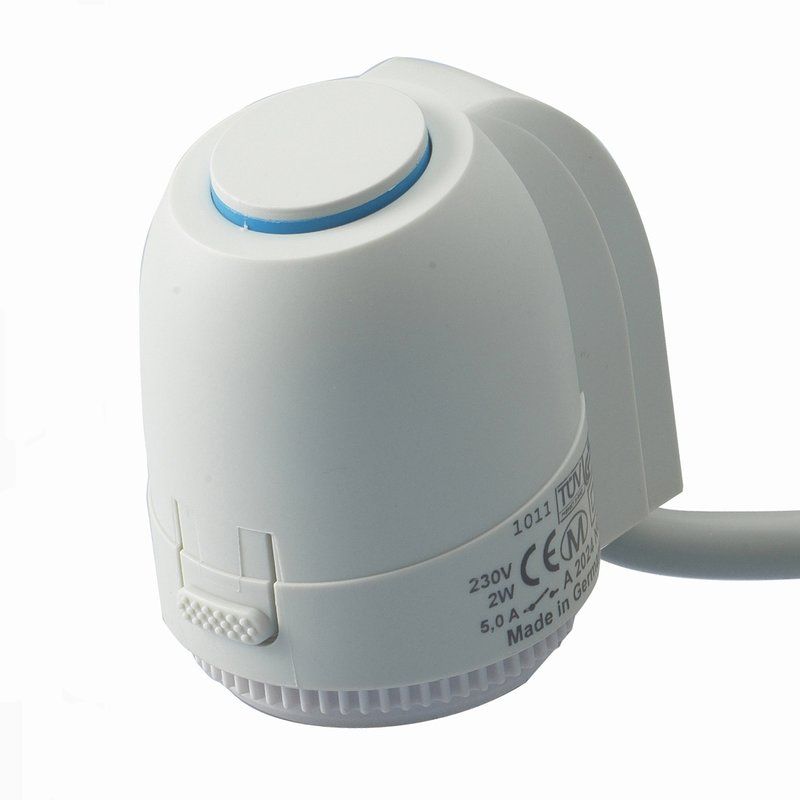 IVAR Actuator - 24V - 4 Wire Telestat Switch
Specifications
| Model | PFP-040 |
| --- | --- |
| Heating Capacity* (Btu/h) | 6,900 |
| Heating Capacity** (Btu/h) | 8,500 |
| Heating Capacity*** (Btu/h) | 10,500 |
| Cooling Capacity* (Btu/h) | 6,500 |
| Power Supply (V/Ph/Hz) | 110 - 120 V / 1 Ph / 60Hz |
| Air Volume (CFM) | 188 |
| Max. Noise (dBA) | 32 |
| Net Dimensions (H x W x D) (in) | 26 x 35 x 5 |
| Shipping Dimensions (H x W x D) (inches) | 29 x 37 x 7 |
*Heating: Ambient temp. (DB) 70°F, Water temp. (In/Out): 113°F/ -
**Heating: Ambient temp. (DB) 70°F, Water temp. (In/Out): 122°F/ -
***Heating: Ambient temp. (DB) 70°F, Water temp. (In/Out): 140°F/ -
*Cooling: Ambient temp. (DB) 80°F/67°F, Water temp. (In/Out): 45°F/55°F
1 years manufacturer's warranty.
In keeping with our policy of continuous product improvement, arcticheatpumps reserves the right to make specification and design changes without notice.

TYPICAL FAN COIL INSTALLATION DESIGN USING BUFFER TANK