Zilmet Solar Expansion Tank
50 Liters 13.2 USG
Model: N-250
Weight: 15lbs
Manufactured by: Zilmet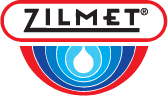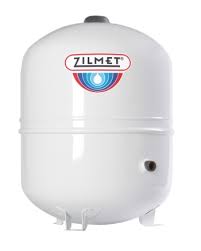 Italian Made Zilmet Solar Expansion Tank - Specifically designed for high temperature solar vacuum tube heating applications. The tanks use a patented Zilan High Temperature membrane that can withstand temperatures up to 212°F. The Zilmet expansion range is a well suited product for all solar heating system's, especially when using high temperature solar vacuum tubes. The Zilan Membrane of the tanks can withstand mixture of glycol up to 60%.
Expansion Tank Principle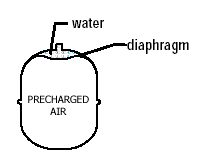 Cold system - water pressure = air pressure in tank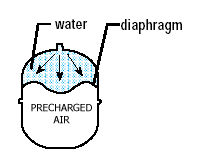 Hot system - water pressure > air pressure in tank
Principle
The expansion tanks have a rubber membrane which separates the solar liquid loop and the other side is filled with pressurized air. As the liquid heats up and expands the pressure of the system increase to an amount greater than the air pressure inside the expansion vessel and causes the membrane to take up more liquid to the air side. This keeps occurring until the expansion tank is completely filled. At that point the pressure of the system has no where to go and will quickly be release through a pressure release valve causing hot glycol to spill over the floor. In order to prevent this, the expansion tank must be sized correctly and the correct initial pressure of the tank must be equal to the design pressure of the system when cold.
Sizing
This is probably the most important part of designing a solar heating system and has many variables. However we take the guess work out of sizing by proving complete solar system packages with the tank size already factored into the design. You can be assured that when purchasing any of our solar heating system you will be supplied with a safe and reliable expansion tank capable of allowing your system to safely stagnate. For those that want more information on sizing of expansion tanks click on link.
Features
Patented Zilan Membrane resistant up 212F
Screwed Stainless Steel Flange
36 PSI Pre-Charged
CE Certified
Floor stand on 40,60,80 Liter Models
3 Year Warranty