Zone Controller Wifi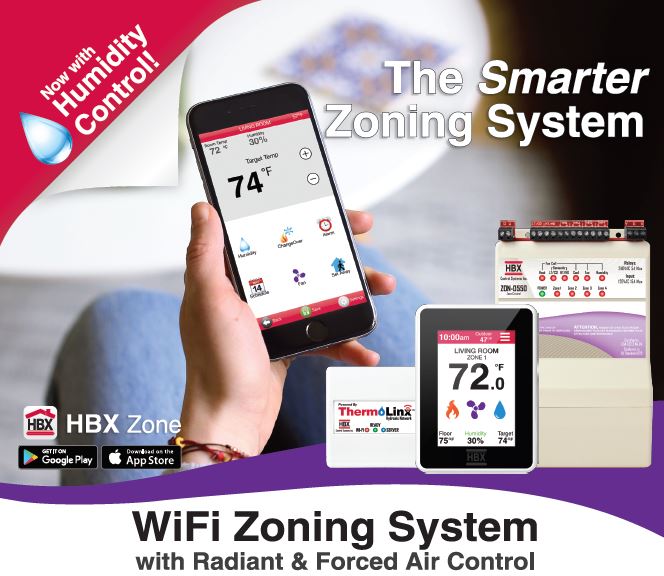 The ZON-0550 is the first Wi-Fi enabled zoning control to the hydronic industry and can be used in many different applications from radiant heating to forced air delivery systems or a combination of both applications.
The ZON-0550 module has the capability to control up to four (4) THM-0300 or THM-0500 thermostats per module and can operate pumps, valves or motorized dampers to provide heating and/or cooling to your HVAC system.
The control can be expandable up to a maximum of 20 zones that utilize wireless pairing communication between controllers.
The zone controller provides outputs (R-W-Y-G-X) for air delivery systems to control fan coils, furnaces, and air handler units. The zone outputs also allow for humidification and de-humidification control.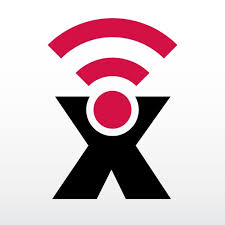 With the HBX Zone App, you can control your thermostat from anywhere in the world. You can adjust temperatures, schedules, and demands from your phone or tablet device. The HBX Zone App can also keep an eye on your system when you're not at home with the alarm alert feature.
Remote access via Apple® and Android™ Smartphone or tablet devices
Control up to 20 zones per system.
Humidification and de-humidification control
DHW control with priority
Zone pump and zone valve control
Damper control with N/O and N/C damper options
Fancoil, furnace, air conditioning control
Demand outputs: High/ Low temp (boiler), Heat or cool demand (Heat Pumps)
Only requires 2 wires per zone to THM-0300/THM-0500 thermostat
Heat Pump Mode (control 2 or 4 pipe systems)
Alarm email notification through ThermoLinx mobile app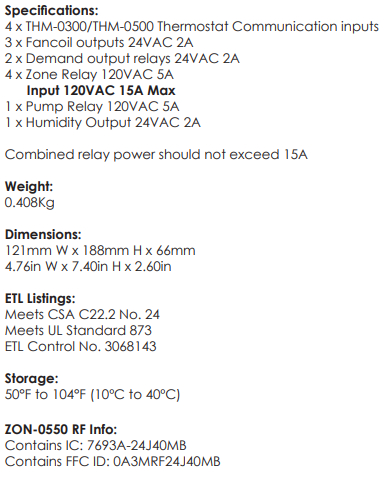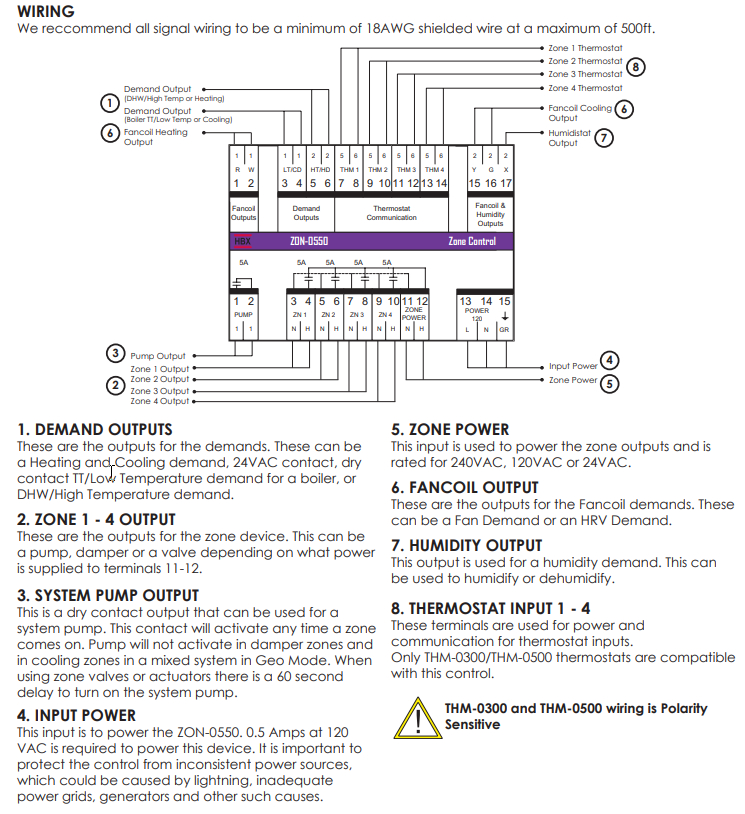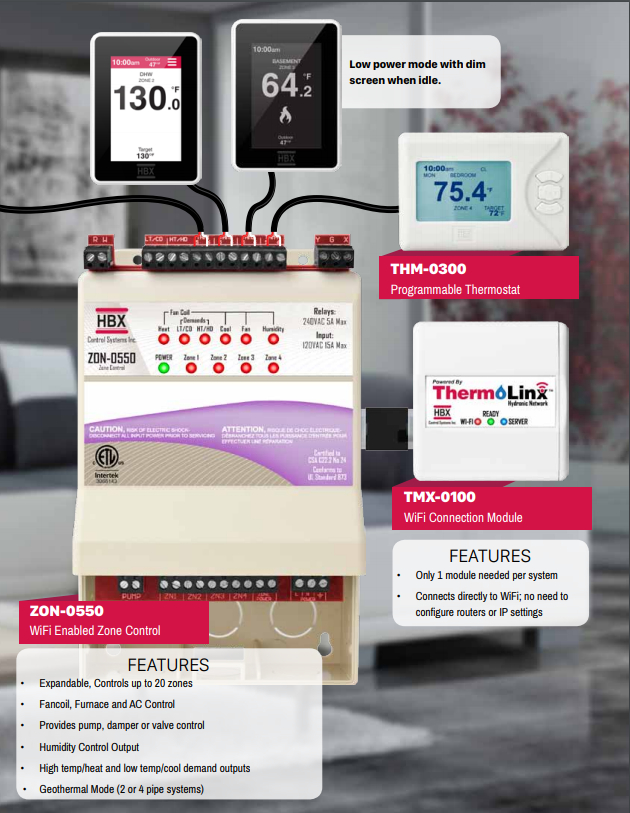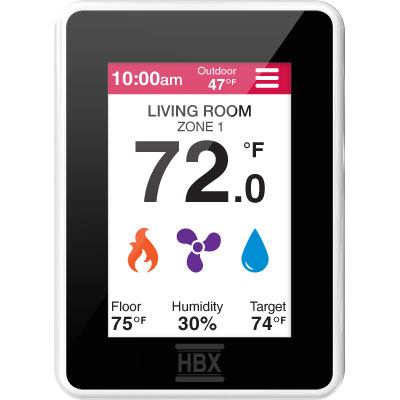 Elegant Touch Screen Wi-Fi Thermostats – THM-0500
The THM-0500 is a 4 stage full programmable P.I.D thermostat designed for Hydronic and forced air HVAC applications. The large, full graphic display with a low profile is easy to read and simple to navigate using the touch screen control. The thermostat features a low power idle mode with a dim screen when not in use. When connected to the internet with the Wi-Fi Zoning system, the HBX Zone mobile app allows you to control the thermostat remotely anytime, anywhere.
The THM-0500 is designed to work only with the HBX Wi-Fi Zoning System and utilizes only two wires (power and communication) to the ZON-0550 zone control. This eliminates the need to pull wire which makes it ideal for retrofits as well as new installations.
Mobile app for Android and Apple devices (HBX Zone App)
Multiple modes: room, floor and dual modes
Includes 10' floor sensor for radiant floor heating
Multiple heating and cooling modes
Auto heat/cool changeover
Away mode for energy savings
Automatic humidity control
Outdoor temperature display by internet
Time clock update by internet
Large, Full Color Graphic Touch Display
DHW capabilities (digital Aquastat)