PAW Hydronic Heating Equipment - Arctic Heat Pumps
German Made PAW Modular Hydronic Pump Stations are considered the leader in heating solutions with their patented modular distribution manifold. Now you can easily create multiple heating zones by simply dropping a pump station onto the manifold. No plumbing is required. Seamlessly integrates zones with different temperatures and flow rates into one complete system.

PAW equipment is built around a centralized heating distribution system. All zones can share the same heat source whether this is a boiler, solar heating or a heat pump. The plug and play hydronic design allows for customers to build one integrated solution to do hydronic heating loops, domestic hot water, fan coil radiators, pools/hot tubs and even snow melt zones.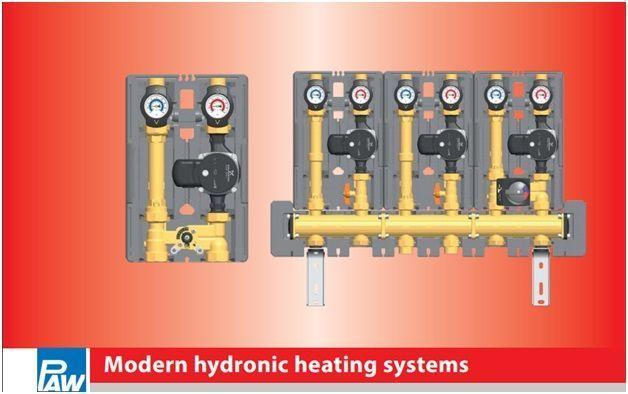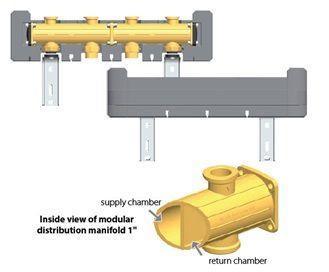 Modular Distribution Manifolds
The system relies on Modular Distribution Manifolds that allows pump stations to be hooked up in parallel to share a common heating supply's such as a boiler, solar thermal or a heat pump. These manifolds come in 2,3,4,5 loop configurations and can be expanded past that. There manifolds share the supply and return manifolds from the heating sources on the bottom.
Features:
Heating Distribution Manifold for outputs up to 80 Kw per boiler connection
Completely made of brass
Completely pre-assembled
Completely insulated with high temp EPP foam
Extremely low resistance free flow
Up to 5 pre-assembled manifolds modules available
Multiple connection of heat sources such as gas boiler or wood fired boiler and Heat Pumps
Comes with wall bracket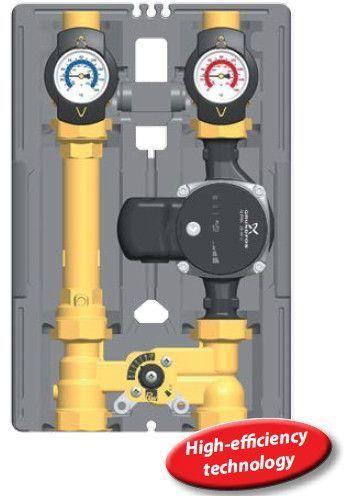 Pump Station
The complete integrated pump station saves time on installation, allows for pump servicing and seamlessly integrates with the PAW Distribution Manifold for parallel installation of multiple heating circuits. 1" FPT allows you to attach to PEX or Copper pipe or use our Aurora Flex stainless steel piping for solder free connections. Accurate thermostats and brass ball valves add to the features of these pump stations.

PAW pump stations come in a variety of sizes and can accommodate systems sizing up to 34 Kw. The Grundfos variable speed pump is available in different sizes to match the flow requirements for each zone. By adding multiple pump stations in parallel to the Modular Distribution Manual you can easily achieve a complete home heating solution for every zone requirement.
Features:
Full port ball valves for isolating the system
¾"-1 ¼" compression fittings
Fully insulated housing made of EPP elastic foam
100% insulation of fitting while allow air for pump to cool
Flow check valve in return pipe prevents anti siphoning when pump is off
Right or left supply are interchangeable to suit existing design
100% brass components except for pump
Integrate accurate temperature gauges
Pump isolation also pump to be changes without draining system
Built in mixing valve to lower supply temperature for low temp heating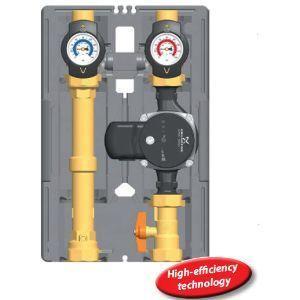 K31 – High temperature Zone Heating
K31 – High temperature Zone Heating with no mixing valve. Ideal for all heating zones except radiant floor heating. 1" NPT Connections.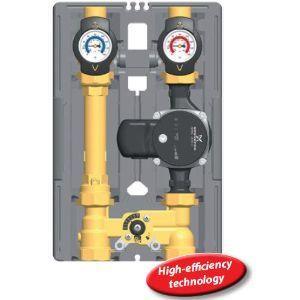 K32 – Hydronic heating Zone
K32 – Hydronic heating Zone with electronic mixing valve. Ideal for any hydronic heating zone that requires mixing. Easily adapts to controllers with heating curve algorithms such as our Resol MX Controller to precisely maintain temperature control. 1" NPT Connections.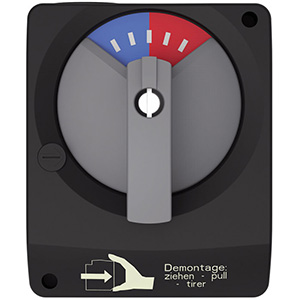 PAW SR10 Actuator for K32
For Weather compensated controls such as the RESol MX. Automatically maintains the proper water temperature for both heating and cooling heating curves. 24 VAC control.