Plug and Play Hydronic heating and cooling solutions with PAW Modular Zone Pump Stations.
With German Engineered PAW modular pump stations you can design heating system quickly while delivering the highest performance and quality standards in the industry. The PAW Zone pump module quickly connect to a centralized distribution manifold allowing you to share the heat source to multiple zones. Now you can easily design a complete home hydronic system that can do radiant floor heating, domestic hot water, radiators and fan coils, as well as pools and hot tubs. All with one single boiler connection.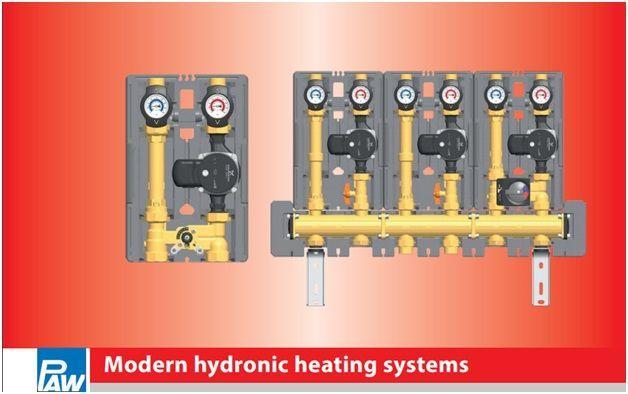 The K32 with 1" NPT connections is used for low temperature heating zones that require lower output temperatures such as hydronic floor heating. The built in electronic mixing valve is used for Heating Curves that optimize the system's performance. Using precise temperature control, the electronic mixing valve receives signals to open and close depending on the heating curve, supply temperatures and outdoor temperatures. In this way your hydronic heating zones always stay constant with no fluctuations. The mixing valve diverters' colder radiant return water with hotter supply water to give your system the exact temperature required.
Requires Electronic Mixing Valve
Features:
1" NPT female connections
Electronic Mixing Valve can also be adjusted manually
Large ball valves handles
Fully insulated enclosure using EPP
Check Valve built into the return piping
Reversible supply and return on right or left side (field changeable)
All brass construction
Metal temperature gauges
Pump isolation for quick system repair
Includes Grundfos ALPHA 25-55 UU
Technical Specifications
TECHNICAL DATA Zone Module K32
| | | |
| --- | --- | --- |
| Dimension | | 1"- DN 25 |
| Materials | Fittings | Bras |
| | Gaskets | EPDM/NBR |
| | Insulation | EPP |
| Technical Data | Max. Pressure | 116 psi/8 bar |
| | Max. Temprature | 230 'F/110 'C |
| | CV value | 4.4 |
| Dimensions | Zone module inlet | 11/2" male |
| | Zone module outlet | 1" NPT F |
| | Center distance | 125 mm/421/32" |
| | Length | 368 mm/14.5" |
| | Width insulation | 250 mm/927/32" |
| | Height insulation | 383 mm/15" |
| Recommended application | High/floating temprature zone control up to 56.5 kBTU/h/16.5 kW at △T = 18 'F/10 K | |