Commercial Solar Pump Station PAW FlowCon FA MAX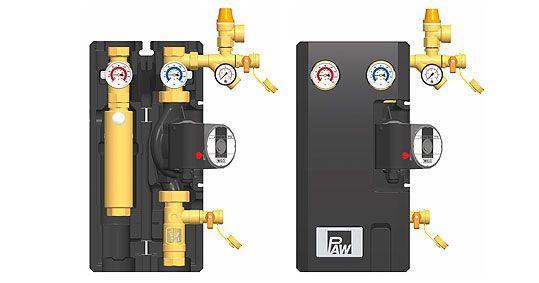 PAW FlowCon FA MAX - Integrated pump station with Wilo Star S30 3-speed solar pump. For Large Commercial Systems requiring higher flow rates
Model: N-69 Shipping
Weight: 10lbs
Manufactured by: PAW
Complete solar control system including solar working station with drain fill valves and shut off isolation valves. Patented air scope, flow meter, pressure release valve, pressure gauge, temperature gauge. Wilo Star S31 3-speed high volume pump included. Quality brass components are high temperature rated.
Note: Requires RESOL controller - comes with 1" compression connections.
USE in closed loop design only. The circulation unit is used on the primary circuit of solar heating systems to control the temperature in the hot water storage. The pump inside the unit is activated by the signal from the differential temperature regulator. In addition, this unit contains the functional and safety devices for optimum circuit control.
FEATURES
All medium-bearing parts are made of brass
All connections 3/4" female
With Pre-assembled steel wall bracket, with the PAW-mounting set to be installed directly to the tank
Full port ball valve in return pipe is noise-free, low pressure drop, manual opener for faster line drain service, spring-actuated - special design for solar thermal applications
Large ball valve handles for easy grip, and visible closing position
Air-Scoop in the supply line for a permanent degassing of the heat transfer medium
Function-optimized design insulationmade of durable elastic EPP; 100% insulation of the fittings - excellent pump ventilation and cooling
Solar safety assembly Pressure relief valve 86 PSI high-temperature manometer 0 - 90 PSI with Drain valve for flushing and filling, flat sealing connection for expansion tank
Full metal solar thermometer, 32-320°F (0 - 160°C) can be pulled-off, with immersion sleeve being integrated in the ball valve
Fully assembled with flat sealing union connections at most joints
Pump can be isolated for servicing
Flow meter Flow quantity measuring device with balancing valve, 5-40 l/m (1-10 USG/m)
Flushing and draining unit integrated Two drain valves (at the Flow meter and at the safety group) enable the filling and flushing of the system
Wilo Star 3 speed pump

S30

with 31 feet of head capacity