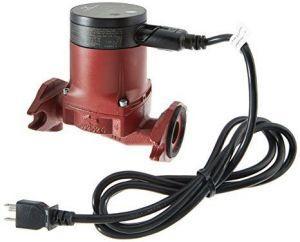 Grunfos ALPHA 15F/LC Variable Speed Circulation Pump with AUTOADAPT
Circulating pump-Grunfos ALPHA 15 is the standard by which all other variable speed circulating pumps are measured. The ALPHA 15 has a cast iron body with a permanent magnetic motor that allows it reduce energy consumption by over 50% compared to standard circulation pumps. the LC model includes a standard 115 VAC Nema power chord.
AUTOADAPT measures the system changes and automatically adapts to maximize the energy or to maintain a certain flow rate. Great for multiple zones that open and close at different times as the AUTOADAPT will sense the pressure drop increases the pump speed to compensate for added zones.
Grundfos ALPHA 15-55F/LC Features:​
Terminal box for conduit connection applications
Large display shows current energy consumption in Watts
Large display shows estimated flow in gallons per minute
Integrated check-valve (removable)
Line chord
Cast Iron pump housing
A one button, easy-to-use interface
3 Fixed Speeds
3 Constant Pressure Speeds
AutoAdapt Range
Applications:
Closed loop radiant heating & snow melting systems, solar thermal secondary loops
Baseboard/Radiator/Fan coil heating and other hydronic heating applications.
Air Source Heat pumps (hydronic)
Geothermal de-super heaters
Muliple Zones
Technical Specifications of Grundfos ALPHA 15-55F/LC:
Flow Range: 0 to 21 GPM;
Head Range: 0 to 19 Feet;
Motor: 1x115V;
Min. Fluid Temperature: 36F;
Max. Fluid Temperature: 230F;
Max. Working Pressure: 150 PSI;
Watts: 5-45W;
Amps: 0.65A;
1/16 HP
Warranty:
3 years manufacturer's warranty.